There's this mother sitting before me and she tries to stem the tears. It's been weeks since her son has been to school. We've been tracking this for a while, her and I – and today her exhaustion is palpable. This mother who would move the heavens and the earth for her children; whose resources are stretched beyond breaking point. He's slipping through the cracks, and she's doing all she can to hold on.
A lot can be achieved in an hour a week – but when the risks are high, and the complexities are many, progress can be dangerously slow. I ring the program with the resources to provide this family with wrap-around intensive support that will secure a positive future for this young man.
"I'm so sorry" says the voice on the end of the line, "they're outside our catchment area."
There is an award-winning evidenced based program that saves the economy $5 for every dollar spent, and this child will miss out because he has the wrong address. The part that breaks my heart? His address used to be in a catchment area – MY catchment area, back when I was a clinician in the program I know can help him – Multisystemic Therapy (MST). Unfortunately, Corrective Services cut the funding to that program in 2010. The Department of Health has continued with MST – but not for his address.
An MST Clinician has flexibility to engage and support the entire system around a child, including parents and other family "stakeholders", collaboratively designing strength-based interventions and providing support to overcome barriers across home and school environments. MST programs work around the clock, seven days a week to maximise pro-social connections, including academic engagement, for the child.
Without those resources? It all falls to me and mum, and the plans we can make in one hour a week to change an entire system that was years in the making.
Against that backdrop, I have been reading Anthony (Tony) Biglan's The Nurture Effect and my heart is jumping with possibilities. I remember well a chance dinner I had a couple of years ago with Tony and his colleague Dennis Embry; giants in the world of prevention and behaviour science. I was filled with excitement and hope as they shared their visions, based on hard science, for a better tomorrow for entire communities. THIS is why I became a psychologist. I still want to "save the world" – and Tony, he's bringing it all within our reach.
The Nurture Effect gently steps readers through over 40 years of research in behavioural sciences, sharing how the accumulated knowledge can be applied at all levels of society (family, school, corporations, policy-makers) to
"create a society where it is unthinkable that a child suffers abuse, fails in school, becomes delinquent, or faces teasing and bullying… a society in which diverse people and organizations work together to ensure that families, schools, workplaces, and neighborhoods are nurturing and that our capitalistic system functions to benefit everyone" (Biglan, 2015, p3)
It sounds somewhat utopian, doesn't it? And yet throughout each chapter Tony outlines time and time again the research evidence that shows both how this is possible and why it is necessary – including the economic value for the holders of the purse strings (and there's an inspiring review of MST).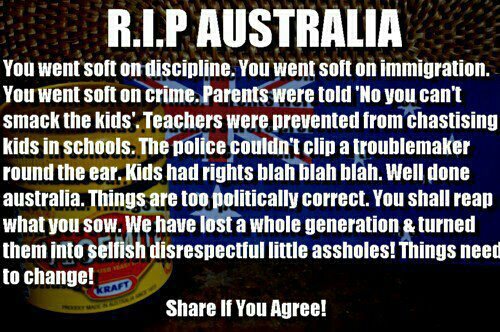 It comes at a time when society needs it most. My whole body shuddered recently when I saw the statement pictured left. It had been shared on Facebook 111,654 times. How often our society, in desperation, reaches for coercive tactics again and again in an attempt to solve problems and yet only making them worse. As he draws upon the research, Tony asserts:
"Children raised in coercive families are more likely to act aggressively, fail academically, begin smoking, develop drug and alcohol problems, and become delinquent." (Biglan, 2015, p28)
In contrast to:
"We can boil down what we have learned in the last fifty years to a simple principle: we need to ensure that everyone lives in a nurturing environment." (Biglan, 2015, p18)
Tony not only presents the research, much of which he has been a key part of, he constructs a blueprint for action. Each chapter concludes with strategies that can be applied at the individual, family, school, community, and policy level to create the nurturing society that he envisages. Easy to read and accessible, this is Tony's life's work. The implementation is up to us – ALL of us.
This is a book worthy of your time. Please read it – and if, like me, you are also refreshed and reinvigorated, be part of the solution! Whilst you take on board recommendations from each chapter, here's something else you could do: put it on book club reading lists; gift it to school teachers and principals; send a copy to your local MP; use it as a stocking filler for all your loved ones (if you can wait that long).
If there is only one book you read this year, make it this one.
With grateful thanks to my client for permission to share a little of her story.